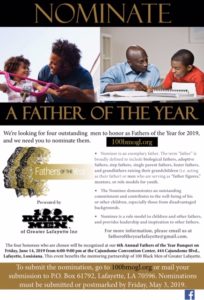 NOMINATE A FATHER OF THE YEAR FOR 2019
As Father's Day approaches we can't help but think of Fathers and Father Figures who have raised us, mentored us, and guided us along the road to success.  Many of these men are unsung heroes and continue to make a difference in the lives of our youth and community every day,
The 100 Black Men of Greater Lafayette, Inc., and Alpha Phi Alpha Fraternity would like for you to think of men like this and nominate them to be a 2019 Father of the Year. The Fathers and Father Figures comes from all walks of life; a father, grandfather, uncle, brother,  coach, teacher, pastor, police officer, elected official or any man who is an exemplary father.
Please use the link below to nominate a deserving Father.  Nomination will close on May 3, 2019.